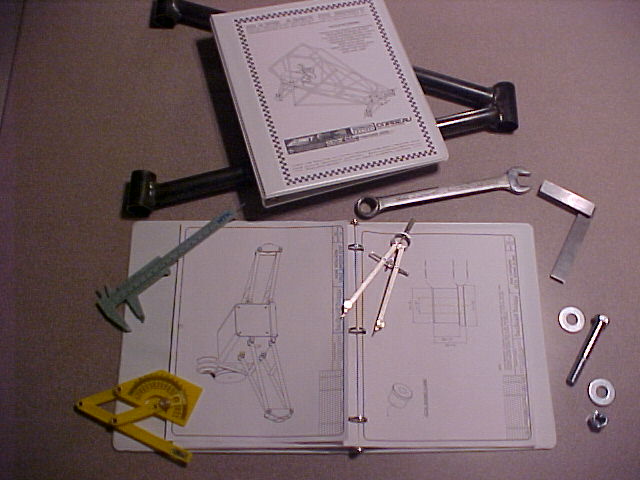 This plan set consists of over 80 pages of:


- METRIC & IMPERIAL DIMENSIONS ALL IN ONE PLAN SET!!

- Very detailed space-frame Chassis Construction c/w all bending details & 3D step-by-step assembly of the entire chassis!

- Motor Mount & Drive Shaft Details including internet part sources!

- Rear Suspension Construction including A-Arm details, bushing details, hub carrier details & the jig detail!

- Front Suspension Construction including the A-Arm details, kingpin cradle, stub axle construction, all of the bushing details & 3D views of how to install it all!

- Steering Installation including rack & pinion installation, tie rod construction & 3D assembly.

- Hydraulic Brakes including adapter plate construction & 3D assembly.


PLUS TIPS ON....

- Engine Selection
- Acelleration & Braking Controls
- Coil-Over-Shock Selection
- Recommended Tire & Wheel Sizes
- Typical Seat Installation

PLUS....

- Complete Structural Materials List
- Complete Front & Rear Suspension Bolts List
- Suggested Tools List
- "Things to Consider Before You Build" sections throughout
- Our "lay flat" laminated cover plan set (take it in the shop!)
AND....
Free Vinyl Decal included with every plan set!

**********************************************************
FOR U.S.A. CUSTOMERS:
Please send your personal cheque or U.S. "INTERNATIONAL" money order for $39.95 US funds payable to:
Badland Buggy
26 Mount Cornwall Circle
Calgary, Alberta, Canada
T2Z 2J6
We now ship all plans via Air Mail (included in cost).
Average delivery to the US is now 4-5 business days
**********************************************************
FOR CANADIAN CUSTOMERS:
Please send a personal cheque or Canadian money order for $63.95 CDN funds payable to:
Badland Buggy
26 Mount Cornwall Circle
Calgary, Alberta, Canada
T2Z 2J6
We now ship all plans via Air Mail (included in cost).
C.O.D. orders available for Canadian customers, please add $7
Average delivery time within Canada is 4-5 business days

**********************************************************
FOR INTERNATIONAL CUSTOMERS:
(outside US & Canada)
Please send an "INTERNATIONAL" money order or "BANK DRAFT" for $54.95 (US funds ONLY) payable to:
Badland Buggy
26 Mount Cornwall Circle
Calgary, Alberta, Canada
T2Z 2J6
Air Mail postage & handling included.
(Approx. 1 week for delivery)

**********************************************************